Dear Friend,
All Saints (or Remembrance Sunday) is one of my favorite Sundays of the year. I love the pageantry of it—coming up to light candles, the look of a table covered with lit prayers. I love that there is a service where our actions speak louder than our words. I love that we set aside a Sunday each year to acknowledge grief and loss.
All of these seem like such counter-cultural things in our world today: praying, acknowledging that there are times when words are not necessary (indeed, when words fall short), creating a place for grief.
As I've been preparing this year's service, I came across a quote from John Donne that I suspect will make the final cut and be part of our liturgy on October 31st. It's the lead up to Donne's famous quote that "no man is an island" and "the bell tolls for thee". It talks about how each of us is connected to one another through the life of the church:
"The church is catholic, universal, so are all her actions; all that she does belongs to all. When she baptizes a child, that action concerns me; for that child is thereby connected to that body which is my head too and ingrafted into that body whereof I am a member. And when [the church] buries a person, that action concerns me. All [of humanity] is of one author, and is one volume; when one [person] dies, one chapter is not torn out of the book, but translated into a better language; and every chapter must be so translated. God employs several translators; some pieces are translated by age, some by sickness, some by war, some by justice; but [the Lord's] hand is in every translation, and [God's] hand shall bind up all our scattered leaves again for that library where every book shall lie open to one another. As therefore the bell that rings to a sermon calls not upon the preacher only but upon the congregation to come, so this bell calls us all. . . .
No [one] is an island entire of itself; every[one] is a piece of the continent, a part of the main. If a clod be washed away by the sea, Europe is the less, as well as if a promontory were, as well as if a manor of thy friend's or of thine own were. Any[one's] death diminishes me, because I am involved in [hu]mankind, and therefore never send to know for whom the bell tolls; it tolls for thee."
I love that imagery of each of us connected to one another because we are all part of Christ's body.
May you feel that connection this day and all days,
Pastor Sarah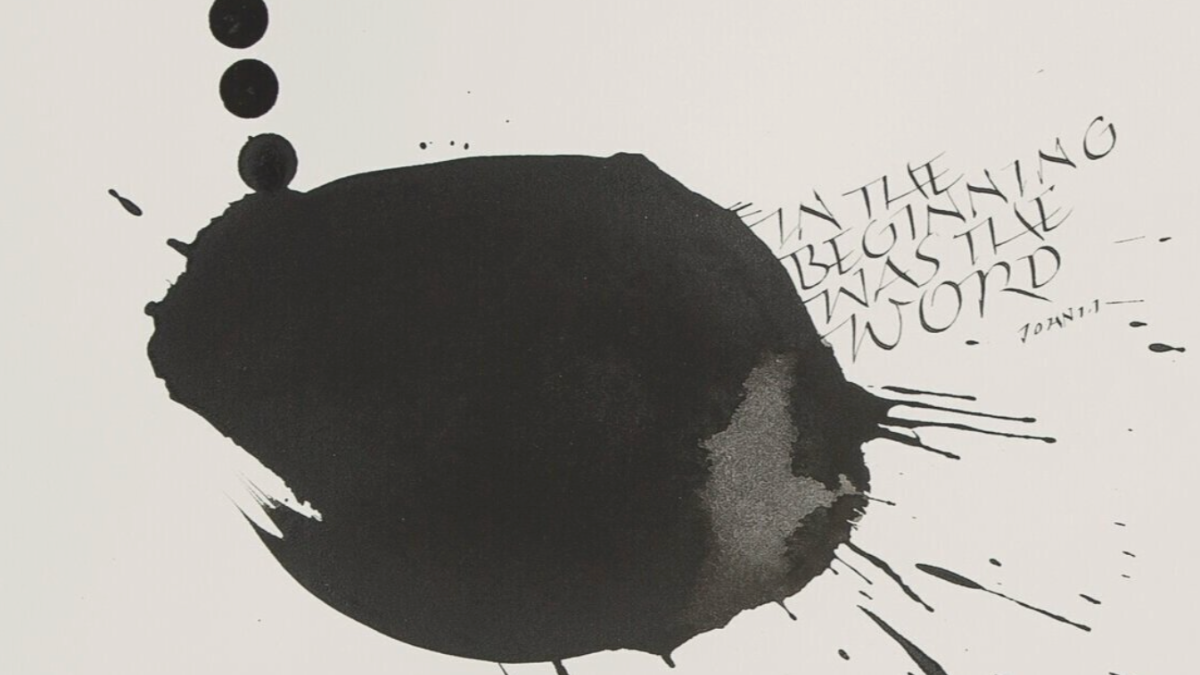 The Henry Luce Center for the Arts and Religion
The link above will take you to the forward for a digital exhibit of religious calligraphy. It's a brief forward, but an interesting reflection on the juxtaposition between digital and physical, particularly with regard to art. But what I particularly love are the exhibits, like the one above by Manny Ling titled, "In the Beginning." If you click on the picture, it will take you to the home page for the exhibit, and if you click on each exhibit, it will take you to a page with a description and commentary on the exhibit itself. Here's just a taste of the entry for the image above:
"The words from John shout in capital letters; they move in rhythm and convey the life which Ling seeks to imbue in all his lines. Next to them is a large ink splatter. We see the path of his brush: dipped into an inkwell above the left side of the page, dripping as he moves it into position, and forcefully stamped onto the paper. The vigor of Ling's movement, the dance of his brush recorded on the page, echoes the power of God's speech in creation. The sudden force of it evokes a Big Bang, not a gentle molding. We sense the imprint of Ling's breath, body, and movement—paralleling the Christian idea that one can sense God through her signs in creation. The medievals even termed this 'reading' the Book of Nature."
What do you think? Do you have a favorite?
Girl Named Tom
This song takes me back to high school. It's possible I like this version even more than the original. And they're siblings!
At the Tokyo closing ceremony, Paris 2024 ushered in the next Paralympic Games with a moving handoff to take over as the next host nation.