Dear Friend,
One of my favorite shows of the last few years has been The Good Place with Ted Danson and Kristen Bell. It is a half-hour comedy that was on NBC and is now on Netflix. It follows a woman who did not live a very "good" life but who through an error ends up in "the good place" after her death. Over the four seasons, the show looks light-heartedly, at some of the deepest questions about life and death and life after death. It is funny, but also sweet and has many poignant moments. Rare for TV, it gave me some meaningful things to think about especially what it is I believe happens after our physical body dies.
Each year, as we come to All Saints Day, we carve out time in our liturgy to remember those who have died. And, as we remember, it makes sense that we would consider what it is we really believe happens after death. While as Christians, we believe in a life after death, an eternal life, we do not have one fixed vision or understanding of what heaven looks like. What comes after life on earth remains one of God's greatest mysteries. What we do believe is that our souls will go on and the love shared here on earth never dies.
So, this year, whether you imagine fluffy, white clouds and pearly gates, or something very different, I hope we will all pause and give thanks for the lives of loved ones, think about how we want to live this one, wild and precious life we have and take seriously the idea that all the love we put into this world will continue on long after we are gone.
 
Blessings,
Pastor Jenny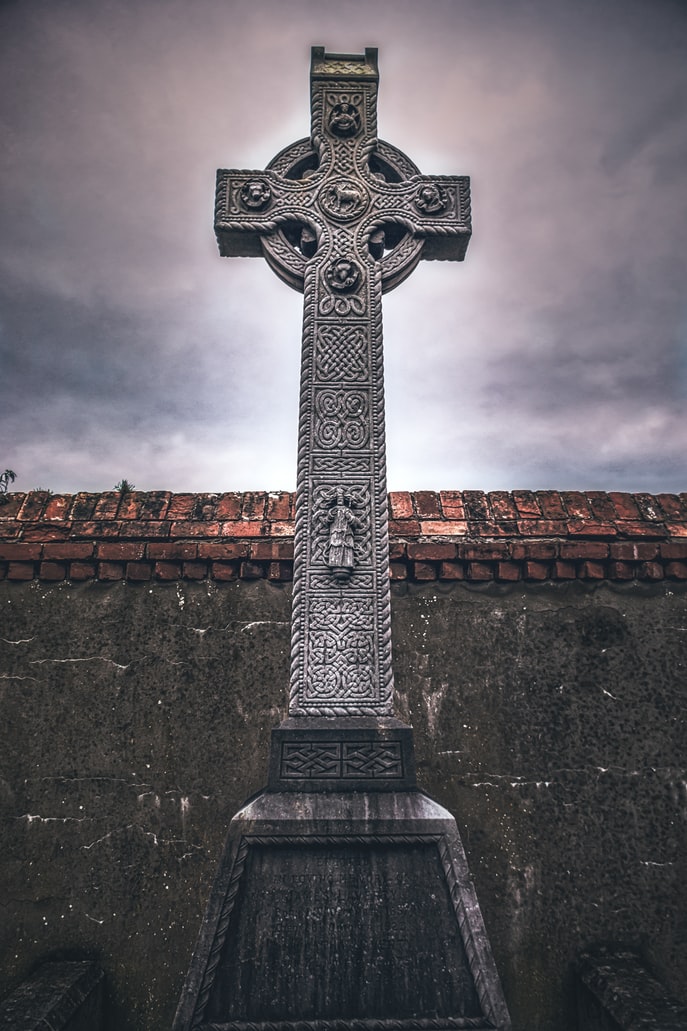 At The Wake
by Brian Doyle
I've only discovered Brian Doyle as an author in the past year, but I love the poems he writes with a mix of faith and nature and honest observation. This poem, At The Wake, helps me to think about the stories that are often missed at funerals that fill in the details or tell volumes about who a person was. It reminds me to think of the stories I would tell to try and define the people I love. I hope you enjoy it.
 
At the wake I am standing in a corner near the whiskey table
When I overhear a snippet of conversation that delights me.
Referring to the deceased, a burly comic gentle man aged 52,
One man says to the another One time we had a raving argument
About something or other—I can't remember what now. But
We were furious with each other and I stomped away. Could
Be I swore I would never talk to such a dork again. Next day
Life happens and I had to borrow his truck. Not only does he
Bring the truck but he helps me load and unload stuff. I think
We could just tell that story and cover the bases with Tommy,
You know what I mean? I bet every other guy here borrowed
That truck too, and probably every time Tommy came with it.
What else do you need to say about the man cooler than that?
Mozart's Requiem in D K 626
This is long, but it is a beautiful rendition of what is often considered the most famous requiem – Mozart's Requiem in D K.626.
Let's Visit the Human Composting Facility!
Ok, this might not be for everyone. But, it is a light-hearted (and maybe a bit silly at times) video that shows the in's and out's of a method of burial which is quite sacred and environmentally better than much of what happens in our current culture. Considering all the composting our church does for other organic matter, and how many of us have grown to understand the beauty of giving our food a second life as rich soil, this is a fascinating account of burial through the composting of human remains. I found it something interesting to consider and a way to imagine our deaths as both a movement into eternal life in heaven, as well as our bodies continuing in the life cycle on earth.
Pastoral Prayer
for All Saints
Living God, in whom there is no shadow or change,
we thank you for the gift of life eternal,
and for all those who, having served you well,
now rest from their labours.
 
We thank you for all the saints remembered and forgotten,
for those dear souls most precious to us.  
Today we give thanks for those who during the last twelve months
have died and entered into glory.
 
(Names may be mentioned here….)
 
We bless you for their life and love,
and rejoice for them "all is well,
and all manner of things will be well."
 
God of Jesus and our God, 
mindful of all those choice souls who have gone on ahead of us,
teach us, and each twenty-first century disciple of every race and place,
to follow their example to the best of our ability:
      to feed the poor in body or spirit,
      to support and comfort the mourners and the repentant,
      to encourage the meek and stand with them in crises,
      to affirm those who hunger and thirst for righteousness,
      to cherish and learn from the merciful,    
      to be humbled by, and stand with, the peacemakers.
 
Let us clearly recognize what it means
to be called the children of God,
and to know we are to be your saints
neither by our own inclination nor
in our own strength
      but simply by the call
      and the healing holiness
      of Christ Jesus our Savior. Amen!
 
~ written by Bruce Prewer, and posted on Bruce Prewer's Home Page. http://www.bruceprewer.com/DocA/61SAINTS.htm