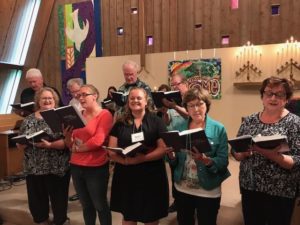 We would love for you to join us for worship on Sunday morning! We are currently worshipping on Zoom. Our service begins at 10 a.m. CT, but one or both of our pastors are online and available beginning at 9:30 a.m. so that folks can chat with one another and/or work out any technical difficulties. You do need a password to attend, so please be call the church office or email Kathy Miller, our Ministry Assistant, to let her know you'd like to attend.
About Worship
Our Zoom worship services tend to be between 45 and 55 minutes long. Our congregation really enjoys the opportunity to "see" one another on Zoom and have the opportunity to worship "live" together.  Typically we include in worship unison prayers, a hymn, a time for children, scripture readings, a sermon, an offering time with music for reflection, a pastoral prayer, and a benediction. Some weeks one or more of these elements might have visuals, but those who need to phone in are still able to worship.
Communion is celebrated on the first Sunday of every month. We'll remind you in our weekly bulletin email on Sunday so that you can be sure to have something to eat and drink on hand. While we traditionally use bread and grape juice when we are in person, you are invited to use whatever you have on hand—Christ can be present to us and nourish us in many different ways, so feel free to enjoy coffee and donuts for your communion.
On the second Sunday of every month, we have our Second Sunday fellowship immediately following our service. We randomly assign people into Zoom Breakout Rooms of 4-10 people for 15 minutes of conversation. This is a great way to talk with friends or get to know someone new.
About the Technology
All of our Zoom meetings and events require a password, which is always the same. Please contact Kathy Miller at [email protected] if you need the password. The Zoom Worship ID is always 956-669-638 or you can click on this link: https://zoom.us/j/956669638.
Regardless of your familiarity with Zoom, we recommend signing on at least five minutes before the service as log on times tend to vary. Likewise, we highly recommend making sure your Zoom app is up-to-date before signing on each week (updates come out frequently). If you have trouble with Zoom or could use some help getting things set up, please be in touch with Kathy Miller and one of our more technologically-adept members will be glad to help you.
If you experience any difficulties during the service, we recommend signing out and signing back in again. We do not lock the service after it starts so you can join us any time.
For security purposes, once worship begins, the pastors mute everyone except themselves and only allow folks to unmute at certain points in the service, so if you'd like to talk and fellowship with folks, we recommend signing on early. Likewise, we have disabled the ability to share screens for everyone except our worship leaders and we have two "ushers" who help us take attendance. One of these ushers may reach out to you via chat if you are unfamiliar to them or your name isn't displayed on your Zoom account.
All of our liturgy is put up on slides during the service, but if you'd like a copy of it or would like to see any sources we have relied on, a bulletin is emailed out each Sunday by Kathy Miller.