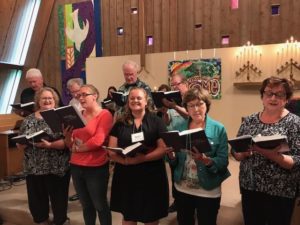 We would love for you to join us for worship on Sunday morning! We are currently worshipping on Zoom some Sundays and in-person on other Sundays (you can see the schedule below). Our service begins at 10 a.m. CT, but one or both of our pastors are online and available beginning at 9:30 a.m. so that folks can chat with one another and/or work out any technical difficulties. You do need a password to attend, so please be call the church office or email Kathy Miller, our Ministry Assistant, to let her know you'd like to attend.
Worship Schedule
July 4, 11, 18—Zoom
July 25—In-Person
August 1, 15, 29—Zoom
August 8, 22—In-Person
September 5—Zoom
September 12, 26—In-Person
September 19—In-person outside
FAQ About In-Person Worship
Will there be a streaming or online option the weeks when in-person worship is being offered?
No. At least, not yet. It's possible that we will decide that streaming makes sense, but that would require a significant investment of time and money, and the Session wants to first do some more research. You can probably expect to see a streaming test done in a very low-tech way at some point in the next few months to give people a sense of what streaming would feel like and then see if people would actually watch it.
Do I have to wear a mask if I have been vaccinated?
Yes. For a myriad of reasons, but two big ones. First, our children are not yet vaccinated, and while we do not expect that most of them will be in the sanctuary, it is important to us that we model for them how to be safe in this time, and that includes wearing masks when they are indoors, so we are asking all adults to wear masks when they are inside as a way of modeling both safety and solidarity with our youngest members. Second, we know that vaccination is a very contentious issue in our society right now. We know that most of you have been vaccinated, but we also know that not all of you have been for a variety of reasons. We have made a conscious choice not to ask if people are vaccinated because we want everyone to feel welcome. Asking only vaccinated people to wear masks runs the risk of either singling them out or creating a situation in which people feel the need to lie via their actions in order to fit in. Plus, we know that for people who are immune-compromised the vaccine is not proving effective, and we want to continue to protect the least among us.
You will not need to wear a mask when you are outside before and after worship, though you are more than welcome to if that makes you feel more comfortable.
As a note, our pastors will not be wearing a mask when they are at the pulpit leading worship. Both of them are vaccinated and we want to make sure people can hear and understand them.
What about social distancing?
We will not be social distancing in the sanctuary for worship. In order to do that, we would need to severely restrict the number of people who could attend, and we don't want to do that. So, we are trying to take every other precaution we can knowing that social distancing will not be possible.
Will we be singing?
Yes, but only at the end of the service. For now, we will only be singing "Go Now in Peace" after the benediction. We have been taking our cues this past year and a half from the Wisconsin Council of Churches because they do a remarkable job of gathering the latest scientific data and interpreting it theologically and practically for churches and worshipping communities. They still recommend not singing indoors, and so although many of our elders felt comfortable allowing singing in worship, the decision was ultimately made (for now) to limit our congregational singing to one song at the end of the service so that anyone who felt uncomfortable with it could leave with the pastors after the benediction. We will, however, have plenty of music, both live and through video.
What about fellowship?
Yes!! Of course! We know that wild horses could not stop you from fellowshipping with one another and we wouldn't want them to try. For now, fellowship will occur outside before and after worship. We are inviting everyone to come at 9:30 to fellowship before worship and then to stay after worship in the parking lot or on the grounds for as long as you would like. We will open the doors for worship at 9:50 so there is plenty of time to find your way inside, and then our ushers will help move people outdoors as soon as worship is over (and our pastors will be outside to greet you at the end of the service).
What about children?
For those who are able to be vaccinated (age 12 and up), we are encouraging them to come to worship with their families. For children ages 4-11 who are not yet eligible for vaccines, we will be offering Sunday School each week outside (if it is raining or the weather prohibits being outdoors, we will offer Sunday School in Welsh Hall with the children masked). For children under 4, we will be in contact with their families to see if they would like nursery care or if they'd like to have the children with them in worship. Based on their preferences, we will staff the nursery with vaccinated volunteers as needed.
Are there other precautions being put in place?
Yes. We will be keeping our services a little shorter when we are in-person. We won't be holding hands or passing the peace during the service. We will be turning the air conditioning and fans on well before the service and leaving them on after the service to do our best to help air flow. Likewise, all of the windows in the sanctuary will be open before, during, and after the service. We will not be using the hymnals nor will we have bulletins. All of the liturgy and parts of the service will be projected on the screen in the sanctuary.
Why don't we just worship outside?
We're glad you asked. A number of you suggested that or asked that on your survey responses. There are number of reasons, but the two big ones are heat and sound. Our lot, though large, has very little shade. This fact combined with the reality that it is difficult for our older members to walk steadily on the grass means that we would likely hold the services on the blacktop, which at 10 am in August feels like we're courting heatstroke, or at least significant discomfort. Plus, we do not have a sound system that is meant for outdoors, and we know from past outdoor services that it is difficult, if not impossible, for our older members to hear when we are outside. That said, we will still be having our annual outdoor worship service on Sunday, September 19, with a tent and we hope you will join us!
When are we worshipping in-person and when are we worshipping on Zoom? How will I ever remember which is which?
Good question! Beginning July 25th, we will be in-person every 2nd and 4th Sunday and we will be on Zoom every 1st, 3rd, and 5th Sunday, with one exception. On Sunday September 19th, a 3rd Sunday, we will be in-person but outside for our outdoor service. The dates are listed above and we will be reminding you on Facebook as well as by email each weekend. You can also always find the dates on the front page of our website (www.covpres.org).
About Zoom Worship
Our Zoom worship services tend to be between 45 and 55 minutes long. Our congregation really enjoys the opportunity to "see" one another on Zoom and have the opportunity to worship "live" together.  Typically we include in worship unison prayers, a hymn, a time for children, scripture readings, a sermon, an offering time with music for reflection, a pastoral prayer, and a benediction. Some weeks one or more of these elements might have visuals, but those who need to phone in are still able to worship.
Communion is celebrated on the first Sunday of every month. We'll remind you in our weekly bulletin email on Sunday so that you can be sure to have something to eat and drink on hand. While we traditionally use bread and grape juice when we are in person, you are invited to use whatever you have on hand—Christ can be present to us and nourish us in many different ways, so feel free to enjoy coffee and donuts for your communion.
About the Technology
All of our Zoom meetings and events require a password, which is always the same. Please contact Kathy Miller at [email protected] if you need the password. The Zoom Worship ID is always 956-669-638 or you can click on this link: https://zoom.us/j/956669638.
Regardless of your familiarity with Zoom, we recommend signing on at least five minutes before the service as log on times tend to vary. Likewise, we highly recommend making sure your Zoom app is up-to-date before signing on each week (updates come out frequently). If you have trouble with Zoom or could use some help getting things set up, please be in touch with Kathy Miller and one of our more technologically-adept members will be glad to help you.
If you experience any difficulties during the service, we recommend signing out and signing back in again. We do not lock the service after it starts so you can join us any time.
For security purposes, once worship begins, the pastors mute everyone except themselves and only allow folks to unmute at certain points in the service, so if you'd like to talk and fellowship with folks, we recommend signing on early. Likewise, we have disabled the ability to share screens for everyone except our worship leaders and we have two "ushers" who help us take attendance. One of these ushers may reach out to you via chat if you are unfamiliar to them or your name isn't displayed on your Zoom account.
All of our liturgy is put up on slides during the service, but if you'd like a copy of it or would like to see any sources we have relied on, a bulletin is emailed out each Sunday by Kathy Miller.